Inclusive Business (IB) Accelerator is calling on entrepreneurs seeking latest information and knowledge on marketing and distribution at the Base of the Pyramid (BoP) i.e low income groups.
IB Accelerator is an initiative of Ventures Capital for  Africa (VC4A), SNV, BoP Innovation Centre, and Nyenrode Business School.
Value
The online bootcamp will provide teh most recent and accurate information about marketing, distribution and strategizing for profit to low income earning groups
Eligibility
Entrepreneurs and employees in large organizations and SMEs are invited to apply. Even students of business and marketing are welcome to take part in the online course.
Application
Interested participants can fill the online form available on the IB Accelerator Bootcamp Website before the deadline.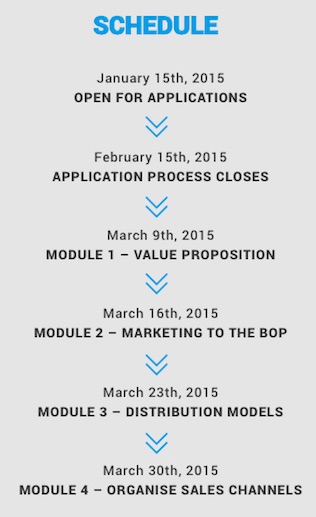 Deadline
15th February, 2015
Additional Information
Further Information can be found on the IB Accelerator Website